Free website SEO analysis
---
With the growing popularity of the web medium around the world, search engine optimization has evolved as a major tool. If your site is highly ranked by the search engines, you get major traffic flow. A FREE SEO website analysis report service will definitely help a small business to a medium one through suggested SEO services by our experts. To get this advanced SEO report you just need to
contact us
and our SEO experts will be back to you soon with a full SEO analysis report of your website.
This Free SEO Analysis Report includes the following:
A complete On Page Report- With the updating algorithm of search engines like Google Panda and Penguin, it is very necessary to adapt and change the SEO strategies and practices. Sometimes a little code can have a major impact towards an SEO campaign and with this on page analysis you can find out the way to stay long with higher ranks in search engine result pages.

Keyword Analysis Report- Keyword Analysis report is ultimately about information and primary data for your website on which this whole SEO process depends. Targeting the right keywords with high competition and maximum searches can generate highest revenue for your business and targeting some wrong keywords can never fulfill your dreams regarding a successful online business.

Our SEO experts examine your keyword's current positioning towards search engines and then suggest to you what you need to improve on in terms of selecting the right keywords for your business.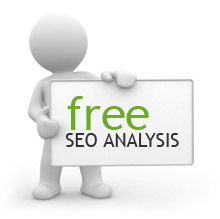 Off Page Analysis Report-
Under this report our off page experts team will analyze your whole website and find out those areas where your website need to improve like blogs submission, article submission, forums posting etc.
Social Media Analytics Report-
Social media sites are widely famous these days and if your business is not shared on those sites then you are far away from success. This social media analytics report is maintained by our Social Media Optimization expert's team and the report consists the complete information about likes and shares on facebook, twitter, digg and so many other famous social media websites. Track the impact of your social media messages for rapid feedback and guidance on your social media strategy and future campaigns.
Why you need this Free Website Analysis Report?
When the report is prepared by our experts, you get an understanding of how your site has been designed. The entire structure of your website is also analyzed by our expert's team in operation. The keyword phrases are also quite important as far as search engine optimization is concerned.
For further details you can visit our
SEO services
and
internet marketing packages
page.
We love to get feedback, so if you've got something you'd like to tell us then send us an email at
This e-mail address is being protected from spambots. You need JavaScript enabled to view it
. Else you need any service or support from our side, just
CLICK here
and we will get back to you shortly.